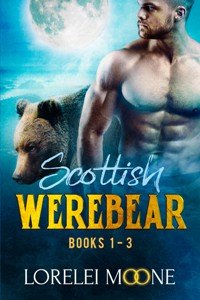 In present-day Scotland, not everyone is who they appear to be. Shifters hide in plain sight, keeping their existence a secret from human society as they have done for generations. But sometimes, that special someone comes along who makes you break the rules... Fall in love with the Scottish Werebears while reading the first three novellas in the series; An Unexpected Affair, A Dangerous Business and A Forbidden Love.
About the Book
Their love can change the world
The shifters of present-day Scotland have lived alongside humans for generations. In secret. 
But sometimes, hiding your true nature can backfire. Especially in matters of the heart. So when one reclusive werebear decides to follow his heart and take a most unexpected mate: a human, his choices affect everyone.
Every shifter. Every human. And even their sworn enemies. Love can melt even the gruffest werebear heart.
These are their stories. Contains: An Unexpected Affair, A Dangerous Business and A Forbidden Love.
Paranormal romance readers and especially fans of Milly Taiden, Terry Bolryder, Harmony Raines and Zoe Chant love this series. Each book features a different fated couple with their own happy ending, as well as sizzling suspense, irresistible attraction and warm fuzzy feels. 
Contains: An Unexpected Affair, A Dangerous Business and A Forbidden Love.
An Unexpected Affair
Romance novelist Clarice must finish her book. Unfortunately, she no longer believes in love. Until she meets man-of-few-words, Derek, who runs the place. Worlds stand between them, but the heart wants what it wants. 
A Dangerous Business
As part of the Alliance, bear shifter Aidan McMillan hunts the Sons of Domnall, a secret society of humans sworn to destroy all shifters. Along comes werewolf Heidi Blackwood, his fated mate, and it suddenly becomes impossible to focus on the job.
A Forbidden Love
Alison Campbell knows that shifters are evil and must be destroyed. In her efforts to infiltrate the Alliance on behalf of the Sons of Domnall, she meets Jamie Abbott, bear shifter and Alliance leader. He steals her heart and she no longer knows what to believe…
Other Books in "Scottish Werebears"