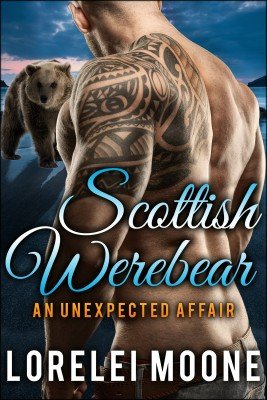 When romance novelist, Clarice Adler, hides herself away in a secluded holiday cottage to finish a book, the last thing she needs is another relationship. Imagine her surprise when she falls head over heels for the man who runs the place. Derek McMillan knows Clarice is his mate, but he's a bear shifter and she's human and the two simply don't mix. They are literally worlds apart; can they find a way to come together?
About the Book
Sometimes, when fate drives you to the edge, you need to take a leap of faith…
Taking a hit to her career after the dismissal of her cheating boyfriend, romance novelist Clarice Adler struggles to reclaim her lost inspiration. The idea of dreaming up romance when her own love life is in tatters is as comical as it is impossible. But her deadline is looming. With her career hanging in the balance, Clarice retreats to the secluded Isle of Skye in Scotland to try and salvage what's left of her manuscript. But even she couldn't have predicted that meeting Derek would summon the muse to her side in full, blinding force. Now the words flow as if by magic. But if there is one thing she does know about Derek McMillan, is it that he is unavailable.
Dealing with the occasional tourist for some extra money, Derek McMillan is otherwise content to keep to himself. Managing the expectations of his farm and renting out a few holiday cottages has sustained his lifestyle for years now. But when he first lays eyes on the curvy figure of Clarice Adler, he immediately regrets accepting her booking. With lightning striking his blood, triggered by his inner bear scenting his mate, Derek struggles to deny the claim. After all Clarice is a human, and the two can't ever mix…. can they?
Follow along as an impossible love blossoms in this steamy paranormal romance novella, An Unexpected Affair! If you like T.S. Joyce, Zoe Chant and Scarlett Grove, then you will love this first installment to The Scottish Werebears Series by Lorelei Moone.
*Please note that this is the first title in Series. Each book features a different couple from first meeting to HEA, as well as an overarching external plot that won't be fully resolved until the end of the series.
Other Books in "Scottish Werebears"