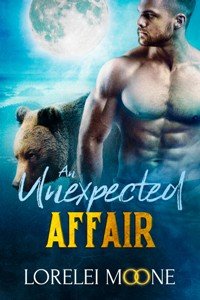 Romance novelist Clarice must finish her book. Unfortunately, she no longer believes in love. Until she meets man-of-few-words, Derek, who runs the place. Worlds stand between them, but the heart wants what it wants.
About the Book
This romance writer's new muse hides a big furry secret…
Heartbroken and newly single, Clarice flees to a remote cottage in the Scottish Highlands for a writing holiday. She no longer believes in love, but her publisher doesn't care.
When she spots Derek, the ruggedly handsome farmer who runs the place, everything changes. Smitten, her creative juices start to flow again. 
Derek loves his life. Far away from civilization, his secluded home offers all the peace and quiet he craves. Until Clarice walks into his life, and turns it up-side-down.
He must avoid her. Not just to maintain his sanity, but also to keep from breaking the rules. 
His big furry secret threatens to break free and ruin everything.
If you love stories featuring grumpy & reclusive bear shifters and fated soulmates, then you'll adore the Scottish Werebears. Get your copy and escape into Clarice and Derek's unexpected affair today!
Other Books in "Scottish Werebears"