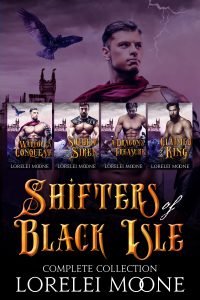 Out Now!
Buy Now: Amazon Kindle / Amazon Paperback / Barnes & Noble / Apple iBooks / Kobo / Google Play / Smashwords
Keywords: Paranormal fantasy romance, shifters of black isle, bear shifter, dragon shifter, damaged hero, strong heroine, werebear, love conquers all, opposites attract, witches, magic, epic battle
With death lurking at every corner, love becomes more important than ever.
The fierce warriors of Black Isle are used to living with the threat of war hanging above their heads at all times. They work hard to survive and celebrate even harder.
Shifters of various types must band together to defeat their numerous enemies, yet they never forget that life and love is precious and to grab happiness wherever they can find it. After all, any given day could be their last.
Claimed by the King
When a young human woman is offered up as a human sacrifice to the mysterious inhabitants of the Black Isles, she assumes she'll be a slave and life as she knows it will be over. She's half correct. Her life will change completely, but King Broc, who claims her as his mate, isn't the brutish captor she expected him to be.
The Soldier and the Siren
The Merfolk are the Isles' natural enemy; have been for generations. When General Teaq comes across a mermaid inside Black Isle territory, he knows he must capture her. But there's something about the mysterious woman that gives him pause. Their respective peoples are at war, but hate is the last thing on their minds.
A Dragon's Treasure
The Isles are on the brink of war, and newly appointed general, Rhea, knows she must summon her secret weapon. The dragon that slumbers underneath the castle is their only hope to defeat the vast numbers of enemy fighters headed to their shores. But dragons are fickle creatures. Will she be able to reason with him and convince him to support her cause?
The Warlock's Conquest
Ever since Ferris' sister was taken by the barbarians that live on the Black Isles, he's been planning his revenge. Years later, he's finally leading a troop of warriors to liberate her, only to discover that perhaps he's been on the wrong side of this conflict all along.