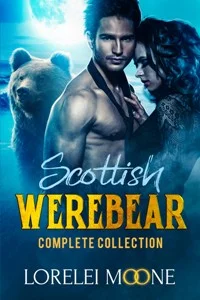 About the Book
Shifters walk among us. In secret…
The werebears of modern day Scotland populated the most secluded areas of the Highlands for centuries. Forced to conceal their true nature from humanity and especially the Sons of Domnall, a secret society sworn to kill all shifters, they firmly believe in one thing:
Trust only your own kind.
But when a single bear shifter claims a most unexpected mate–a human–his actions set an irreversible chain of events in motion. The world is changing, whether shifterkind likes it or not. And a sense of love and romance hangs in the air.
Paranormal romance readers and especially fans of Milly Taiden, Terry Bolryder, Harmony Raines and Zoe Chant love this series. Each book features a different fated couple with their own happy ending, as well as sizzling action, irresistible attraction and warm fuzzy feels.
Even the gruffest werebear heart melts in the presence of his true love…
Be aware that the overarching plot of the series continues until the sixth and final book, so this bundle will keep you reading to the very end! Grab this omnibus edition today and fall in love…
Collection Includes:
An Unexpected Affair
A Dangerous Business
A Forbidden Love
A New Beginning
A Painful Dilemma
A Second Chance
FREE BONUS Story Bundle: Sugar & Spice: A Scottish Werebear Xmas
An Unexpected Affair
Romance novelist Clarice must finish her book. Unfortunately, she no longer believes in love. Until she meets man-of-few-words, Derek, who runs the place. Worlds stand between them, but the heart wants what it wants.
A Dangerous Business
As part of the Alliance, bear shifter Aidan McMillan hunts the Sons of Domnall, a secret society of humans sworn to destroy all shifters. Along comes werewolf Heidi Blackwood, his fated mate, and it suddenly becomes impossible to focus on the job.
A Forbidden Love
Alison Campbell knows that shifters are evil and must be destroyed. In her efforts to infiltrate the Alliance on behalf of the Sons of Domnall, she meets Jamie Abbott, bear shifter and Alliance leader. He steals her heart and she no longer knows what to believe…
A New Beginning
Ever since his delusions about randomly turning into a bear began, Matt Argyle kept to himself. But when curvaceous beauty Leah Hudson moves in next door, his carefully orchestrated reclusive life changes. In order to get to know her, Matt must also learn some important truths about himself.
A Painful Dilemma
Good guy and ambitious Alliance agent Henry Weston always does the right thing. But when he is ordered to spy on his own people, he knows he must rebel. He finds the perfect partner in Gail McPherson when they connect in a way only true mates can. But, Henry already has a mate. What the hell?
A Second Chance
Journalist Charlie McAllister watches the New Alliance reveal itself on live TV and can't believe her eyes; one of the shifters looks so familiar… Surely not James, her childhood neighbour and crush who disappeared on her after theri first and only kiss? The void he left behind still aches. Still, she vows to track him down for an exclusive interview…
Other Books in "Lorelei Moone Collections"