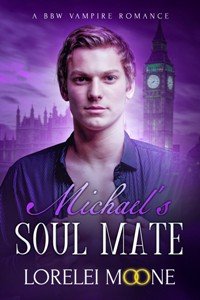 Playboy Michael has never planned to settle down. When he finds a woman left for dead in the street, he turns her to save her life. In one seemingly random act of compassion his immortal life changes forever. As does hers, obviously.
About the Book
Michael never sought out love, until one night he stumbles across it anyway.
A sense of foreboding hangs over Michael, like the dark clouds collecting overhead. Trouble brews, of the non-meteorological kind.
The scent of blood clings to the frosty December air, attracting him against his will.
The source? A beautiful woman, lying face down on the damp pavement. Drained, though not yet dead, only the Ritual can save her now.
Immortal playboy Michael never wanted to become anyone's maker. Never wanted to settle down. Until one cold winter's night he finds Anna, and everything changes.
This thrilling and sexy second book in Lorelei Moone's Vampires of London series can be enjoyed as a stand-alone. But, if you'd like to start at the beginning, check out Alexander's Blood Bride first.
Other Books in "Vampires of London"