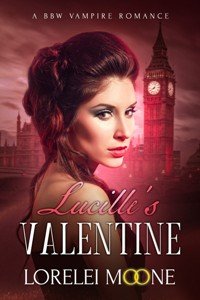 Marek the Soul Eater has escaped and Lucille must return him to the Vampire Council. She comes across vampire hunter, Valentino Conti, who chases the same menace. Intrigued, she proposes a collaboration. But he must never find out her real identity, or else…
About the Book
The enemy of my enemy… loves me?
Valentino Conti deals in death. He knows it, and the unfortunate creatures he hunts, find out soon enough.
Vampire hunter Valentino prepares to face off with his most dangerous adversary yet. Victory looks impossible without a miracle, or at least an unexpected companion by his side.
Enter Lucille. The woman of his dreams and answer to all his prayers? She must capture the same target, for reasons she refuses to share.
Honesty and trust make a relationship, they say. But not this time.
As the third and final instalment of Lorelei Moone's Vampires of London series, Lucille's Valentine can be enjoyed as a stand-alone. But, for more enjoyment start at the beginning, with Alexander's Blood Bride.
Other Books in "Vampires of London"