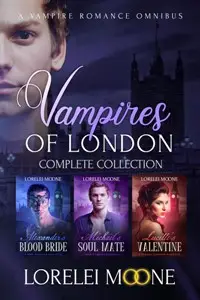 Sink your fangs into Books 1-3 of the Vampires of London series in one handy bundle. This Vampire Romance collection includes: Alexander's Blood Bride, Michael's Soul Mate and Lucille's Valentine.
About the Book
Some romances last forever… Others end in misery.
Vampires exist. Unimaginable dangers lurk in London's supernatural underworld, threatening our heroes' chances for happiness.
In this dark yet sensual collection of present-day gothic romances, follow three immortals on their perilous quests for love. With each union forbidden in its own way, Alexander, Michael and Lucille face a difficult choice. 
Follow the rules of the Vampire Council or resist and love whoever they want?
They risk punishment for going against their elders. And with dangerous forces waiting in the shadows, they also risk losing the people they love forever.
This collection contains: Alexander's Blood Bride, Michael's Soul Mate and Lucille's Valentine. Three tales of passion, lust, suspense and redemption that will have you turning the pages until the very end. Perfect for fans of JR Ward and Tina Folsom. 
Alexander's Blood Bride
Alexander's annual Halloween party allows him the chance to people-watch in peace. But this year, a human like no other walks into his mansion, and into his life. Cat. He vows to seduce her. To make her his. Cat, however, has other ideas…
Michael's Soul Mate
Playboy Michael has never planned to settle down. When he finds a woman left for dead in the street, he turns her to save her life. In one seemingly random act of compassion his immortal life changes forever. As does hers, obviously.
Lucille's Valentine
Marek the Soul Eater has escaped and Lucille must return him to the Vampire Council. She comes across vampire hunter, Valentino Conti, who chases the same menace. Intrigued, she proposes a collaboration. But he must never find out her real identity, or else…
One-click today to discover if these three lonely souls find the happy ending they so desperately desire!
Other Books in "Lorelei Moone Collections"