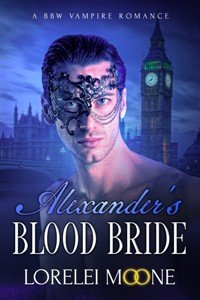 Alexander's annual Halloween party allows him the chance to people-watch in peace. But this year, a human like no other walks into his mansion, and into his life. Cat. He vows to seduce her. To make her his. Cat, however, has other ideas…
About the Book
Vampires exist. And a whole bunch of them live in London.
Wallflower Cat only went to the stupid Halloween party because her roommate dragged her along. Big mistake. 
Even worse: nearly falling into bed with Alexander, the mysterious host of the event, before fleeing his mansion faster than a bat out of hell.
Something about him and the other partygoers made her suspicious. 
Still, Alexander left his mark on her. The kind that lasts an eternity.
This first book in Lorelei Moone's Vampire of London series flirts with death, but just a little. Sink your fangs into Alexander's Blood Bride and discover a secret underworld nobody knows about. 
Other Books in "Vampires of London"