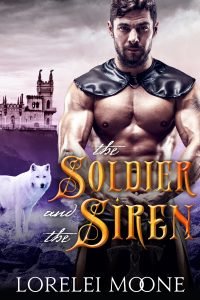 Out Now!
Buy Now: Amazon Kindle / Amazon Paperback / Barnes & Noble / Apple iBooks / Kobo / Google Play / Smashwords
Keywords: Paranormal fantasy romance, shifters of black isle, wolf shifter, werewolf, love conquers all, strong heroine, mermaids, enemies to lovers, romeo & juliet
He's the enemy. Our union is forbidden. That's why I have to have him.
Liliwen has all she could wish for, yet her sheltered life as Princess under the Seas leaves her unfulfilled. She goes rogue and travels to the enemy's territory. When she sees him, she knows he's a rare specimen. A soldier with many a battle scar. She ought to flee… but the challenge is on. Can she chisel through his defenses and seduce the enemy? Even though she risks losing her heart, or even her life, in the process?
She's the enemy. I ought to capture the spy and throw her in the dungeon.
Teaq, as General of Black Isle's armies, has always led a life of all work and no play. Being passed over as his younger brother took the throne left him disgruntled and bitter. All this changes when he finds a mermaid in the waters surrounding his territory. Something about her enchants and awakens feelings in him which he never thought he'd have. A ray of hope lighting up the darkness in his heart.
Their meeting makes them rethink their allegiances. The war that has raged between their people seems nothing more than a pointless squabble with neither beginning nor end in sight. But in a world so dangerous and fragile, beauty rarely lasts. If discovered, their love will spell the end for both of them.
The Soldier and the Siren is the second instalment in Lorelei Moone's brand new fantasy romance series, Shifters of Black Isle. Shifters, magic and relatable characters, set in a mysterious, distant land, where anything seems possible—and yet all its inhabitants hold dear could be destroyed in an instant.