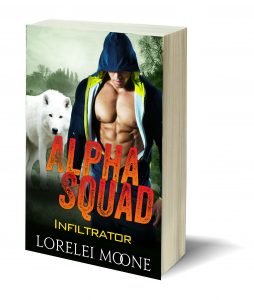 Out Now!
Buy Now: Amazon Kindle / Amazon Paperback / Barnes & Noble / Apple iBooks / Kobo / Google Play / Smashwords
Keywords: Paranormal romance, alpha squad, wolf shifter, werewolf, love conquers all, scottish werebear spinoff, military paranormal romance, romantic suspense
For love or honor… Can a fated union be enough?
After serving six months on the squad, Thomas Blackwood is a true believer in Alpha Squad's mission. Unfortunately that doesn't change the fact that he has been serving two masters, and for a wolf shifter that is one too many. When the squad is sent in to investigate a string of crimes reported to involve a pack of renegade wolves, Thomas realizes he is playing with borrowed time. Trapped between his pack's alpha's orders to kill the investigation before it starts or remain true to Alpha Squad's calling, Thomas finds there is a worse fate… What would Private Callahan think of him if she knew he was a traitor?
Doing everything in her power to ignore the one Alpha Squad member who could turn her world upside-down, Jill Callahan has tried her best to maintain her professionalism. Thomas Blackwood could be her downfall- and she knows it. So she's been avoiding him altogether. But when Blackwood triggers suspicions, and nobody seems to notice it but her, Jill discovers quickly she no longer has that luxury. Compelled to investigate what's really going on, Jill can't help but wonder if this mission will be the one to end in heartbreak, but if it does, so be it.
Loyalties are tested, bonds are shaken, and some things are not meant to last. The mission – and the squad – must come first. Can two hearts meant for each other find another way? Or are things just not that simple?
Join Alpha Squad in this steamy paranormal romance you won't want to put down. If you like Alpha City by Bryce Evans or Bear Patrol by Scarlett Grove, then you will love the Alpha Squad Series by Lorelei Moone!