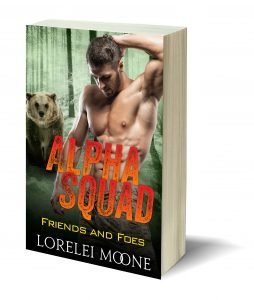 Out Now!
Buy Now: Amazon Kindle / Amazon Paperback / Barnes & Noble / Apple iBooks / Kobo / Google Play / Smashwords
Keywords: Paranormal romance, alpha squad, bear shifter, werebear, love conquers all, scottish werebear spinoff, military paranormal romance, romantic suspense
Sometimes doing the right thing… means risking everything.
Excited to receive his very first assignment, Alpha Squad recruit Adam King is ready to jump head-first into the action. With the small town of Sevenoaks experiencing violent attacks on the local population, it's up to Alpha Squad to find the cause. But when suspicions fall on the local shifter refugee camp, and especially Felicity Weir who volunteers there, Adam is forced to reevaluate his priorities. With his inner bear insisting she is his mate and the squad's reputation hinging on a successful first mission, Adam is torn. How can he do his job when he's unable to endanger the woman who appears to be their prime suspect?
Determined to help the displaced individuals streaming in from Europe build a new life for themselves, bear shifter Felicity Weir is forced to take matters into her own hands. Having looked after the shifter refugees camping near Sevenoaks, Felicity cannot accept that one of her kind would be capable of such violence. With the attacks and the mood in Sevenoaks growing more and more hostile, Felicity has no choice but to investigate the deaths herself… before tension toward these newcomers, and by proxy, towards her, ruins the only chance these people have at a fresh start.
With the local police hot on their heels, Felicity and Adam join forces. But will they be able to prove her innocence before public opinion is irreparably poisoned against the shifters? Or will their chances for a happy future together be completely destroyed?
Join Alpha Squad in this steamy paranormal romance you won't want to put down. If you like Alpha City by Bryce Evans or Bear Patrol by Scarlett Grove, then you will love the Alpha Squad Series by Lorelei Moone!