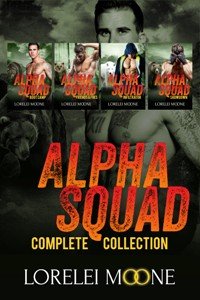 All four titles in the Alpha Squad series in one handy volume. Contains: Boot Camp, Friends & Foes, Infiltrator, and Showdown.
About the Book
Humanity just found out shifters exist.
But this brave new world brings with it a whole bunch of problems. Shifter-on-shifter crime, political unrest in Europe, as well as the everlasting threat posed by the Sons of Domnall…
To improve human/shifter relations, a special task force is formed. Problem solved? Not really. Some powerful people want the squad to fail and shifters to return to the shadows. Plagued by challenges within their own ranks, Alpha Squad must pull together to prove everyone wrong.
Love, however, can bloom even under the most difficult of circumstances. And sometimes between unlikely partners too. Maybe the whole world needs just a little romance and excitement.
Pick up this bundle today and find out if love conquers all for the brave men and women of Alpha Squad. If you enjoy steamy paranormal romance with a military twist like Shifter Ops by Renee Rose/Lee Savino or anything by Terry Bolryder, Milly Taiden and Harmony Raines, then you will love the Alpha Squad Series by Lorelei Moone!
Boot Camp
Bear shifter Eric King receives orders to join Alpha Squad. Same goes for Major Janine Williams. Both want for the squad to succeed, even with powerful forces standing in their way. But will their unprofessional attraction towards each other throw a spanner in the works?
Friends & Foes
Alpha Squad's first assignment brings them to Kent for a shifter-related murder investigation. Werebear with something to prove, Adam King jumps head-first into action, only to run into local bear shifter, Felicity. His fated mate…
Infiltrator
Wolf shifter Thomas Blackwood serves two masters: Alpha Squad, and his pack alpha, who made him join the task force in the first place. For six months, everything worked out fine. But once the two sets of orders he receives start to clash, he enters a world of trouble. What will fellow squad member and woman of his dreams, Private Callahan, think about his betrayal? 
Showdown
New recruit Sean McMillan must investigate a double murder in his native Scotland. An easy job for a former police detective. Until local scientist Erin Reid starts showing a huge interest in him which disturbs his single-minded focus. Has he just met his true mate?
Other Books in "Alpha Squad"