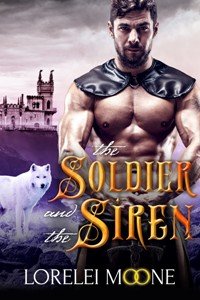 The Merfolk and Islanders stand on opposite sides of a bloody conflict that raged for generations. When General Teaq finds a mermaid in his territory, he knows he must capture her as an enemy combatant. But when he sees her, thoughts of war hardly cross his mind.
About the Book
Their meeting changes the world. Not necessarily for the better.
In a mystical world of shifters and mermaids, an unexpected meeting can change the course of history.
Teaq takes his role as general very seriously. The Black Isles need defending against their mortal enemy: King Weiland and his brutal Merfolk army.
But when he meets Liliwen, whose desire for adventure has led her all the way into enemy waters, his resolve wanes. His duty dictates he arrest her. His heart disagrees.
Enchanted by the enemy, Teaq's actions impact not just himself but his people as well. His entire world threatens to crumble. All because one mermaid and one shifter happen to fall in love.
The Soldier and the Siren is the second title of Lorelei Moone's Shifters of Black Isle series. To fully lose yourself in this fantasy realm and all its magic, start with book 1, Claimed by the King.
Other Books in "Shifters of Black Isle"