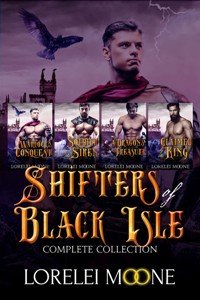 All four books in the Shifters of Black Isle series together in one convenient omnibus edition!
About the Book
With death lurking at every corner, only love can overcome.
The fierce warriors of Black Isle live with the threat of war hanging above their heads at all times. They fight hard to survive and celebrate even harder.
Shifters of various types must band together to defeat their numerous enemies, yet they never forget that life and love is precious and to grab happiness wherever they can find it. After all, any given day could spell their last.
Claimed by the King
When a young human woman becomes a human sacrifice to the mysterious inhabitants of the Black Isles, she expects them to take her and enslave her. But King Broc, who claims her as his own, never forces the issue. Instead, he wants to win her over.
The Soldier and the Siren
The Merfolk and Islanders stand on opposite sides of a bloody conflict that raged for generations. When General Teaq finds a mermaid in his territory, he knows he must capture her as an enemy combatant. But when he sees her, thoughts of war hardly cross his mind.
A Dragon's Treasure
With the Isles on the brink of war, newly appointed general Rhea needs a secret weapon. The dragon that slumbers underneath the castle must help them defeat their fierce and numerous enemy. He declines. Can she lure him out?
The Warlock's Conquest
Ever since the barbarians on the Black Isles took Feris' sister, Kelly, he swore revenge on them. Years later, he leads a troop of mercenary warriors across the sea to liberate her. Does she even want his help? 
One-click and binge your way through the entire series today!
Other Books in "Shifters of Black Isle"