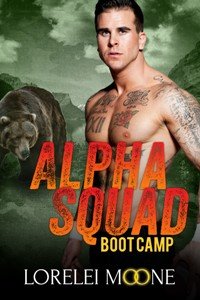 Bear shifter Eric King receives orders to join Alpha Squad. Same goes for Major Janine Williams. Both want for the squad to succeed, even with powerful forces standing in their way. But will their unprofessional attraction towards each other throw a spanner in the works?
About the Book
Can love cross species as well as rank?
Eric King never wanted to join Alpha Squad. He watches as his bear shifter brothers reveal themselves to the world from his cozy London home and wonders just how big a can of worms they opened. Then, the order arrives.
Major Janine Williams certainly never wanted to lead Alpha Squad either. A bureaucrat with something to prove dreamt up the assignment to improve human/shifter relations. And she draws the short end of the stick.  
Fate rarely cares about what anyone wants, though. And so both of them find themselves–as well as each other– at boot camp.
Love blooms in unexpected places, and between unlikely people. The first in Lorelei Moone's steamy paranormal romance series, Alpha Squad, check out Alpha Squad: Boot Camp if you enjoy fated mates stories with a military twist.
Other Books in "Alpha Squad"