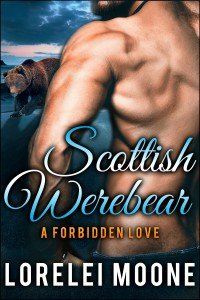 Coming Soon!
You can now preorder the second of the Scottish Werebears books by Lorelei Moone.
Preorder: Amazon Kindle
Keywords: Paranormal romance, werebears, bear shifters, fated mates, romantic suspense
Alison Campbell's reality is far from ordinary. All her life she's been told that there are things that go bump in the night; dangerous creatures that are half animal, half man. Not only that, she's one of the chosen ones whose job it is to protect humanity from these monsters by rooting them all out. That is why she's trying to get close to some of them, by posing as an informant against her own people. However, the more time she spends with 'the other side', the less she can continue to believe that they're inherently evil… In fact, she's actually developing feelings for one of them. So, who are the real monsters?
Bear shifter and local leader of The Alliance, Jamie Abbott is hot on the trail of The Sons of Domnall, a secret society of humans out to destroy all of his kind. After an attempt to bring down their Edinburgh cell, he and his team are scrambling to question their prisoners before the Sons inevitably mount a rescue effort. That's when he meets Alison, the mysterious and curvaceous beauty who looks strangely familiar. It's attraction at first sight, but Jamie can't shake the feeling that Alison, the woman his bear has chosen as his mate, is hiding something big…
Before long, the Sons of Domnall will strike back at Jamie and The Alliance. It'll be time for everyone to choose where their loyalties lie: love or family, human or shifter?